Take that step
Take that step is a free 12 week structured adult weight management programme which is fully funded by North Yorkshire County Council Public Health and includes:
1-2-1 support from a qualified health and wellbeing officer
weekly workshops
nutritional advice
a weekly weigh in
a prescribed physical activity plan

Requirements
This service is FREE to those individuals who meet the following criteria;
Aged 18 years or over
A resident or registered with a GP practice in North Yorkshire OR working for an organisation based in North Yorkshire
BMI Criteria:
BMI (Body Mass Index) equal to or greater than 30 BMI OR
BMI (Body Mass Index) equal to or greater than 25 AND from a black or minority ethnic group OR
BMI (Body Mass Index) equal to or greater than 25 and with some comorbidities including type-2 diabetes, cardiovascular disease, or hypertension
Check your BMI here:
Fiona's story
One recent participant, Fiona Baker (pictured before and now), said Take That Step has changed her life."I'm not sure exactly how much I weighed before I started the programme as I avoided the scales, but I think altogether I've lost around five stone and four dress sizes!," she said "Getting the last two stone off with the support of the Take That Step programme has made such a huge difference. I feel physically fit for the first time in my life and my mental health has significantly benefited too.
"I would like to thank all the team working on this invaluable service. It's changed my life for the better, and I'm thrilled that I've been able to maintain a weight I'm happy with for months, despite the world having been turned on its head!"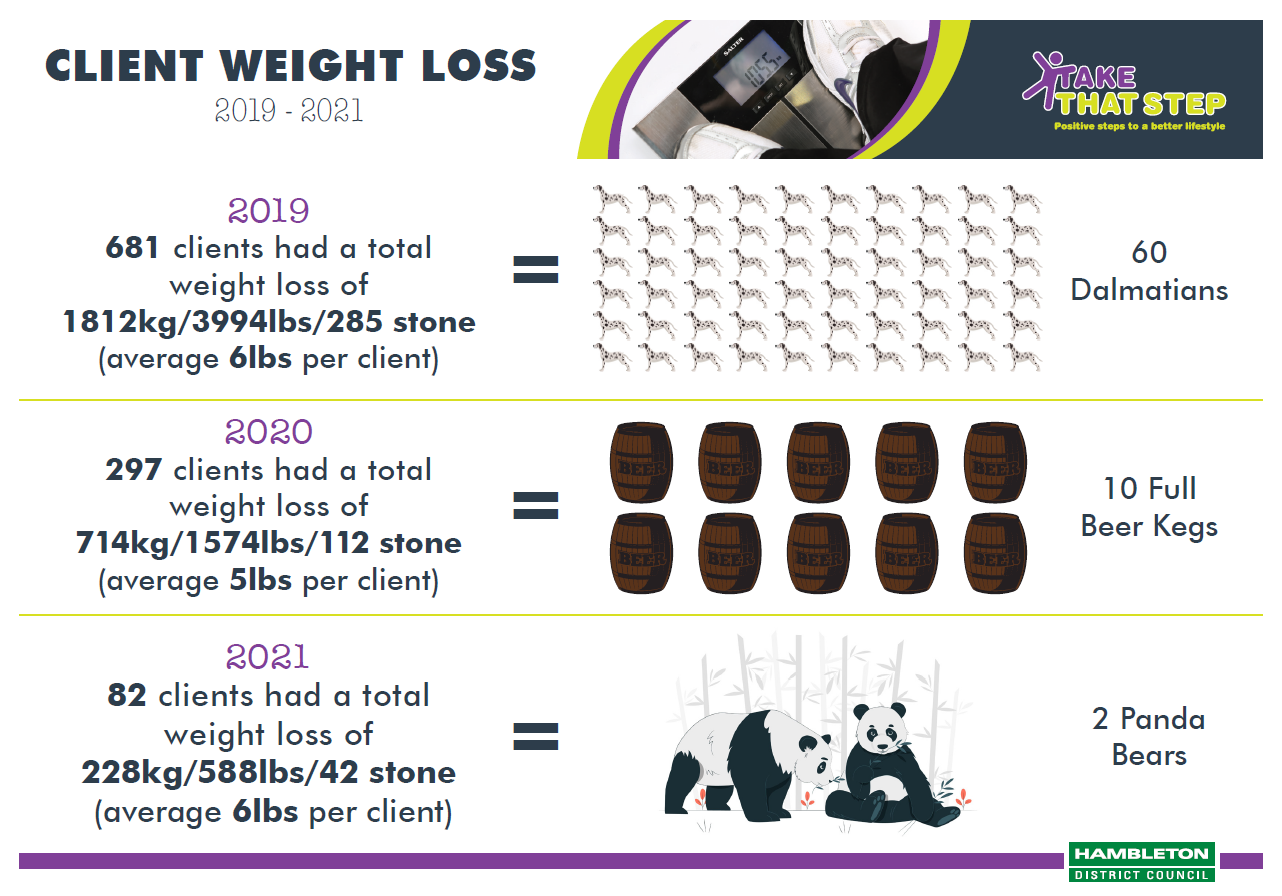 How it works
These sessions will take place at one of the four leisure centres in Hambleton (Bedale, Northallerton, Stokesley and Thirsk and Sowerby leisure centre) and all eligible individuals will receive free access to physical activity sessions.
If individuals successfully complete the 12 weeks and achieve an agreed weight loss target they will be entitled to a further free 12 weeks maintenance programme.
How to apply
If you are eligible based on the information above and you can commit to 24 weeks then contact the Take That Step team:
A member of the Take That Step team will talk you through the service, check your eligibility and discuss what options are available to you.
What happens next?
If you are eligible you will be booked in for an individual assessment with one of the Health and Wellbeing Officers. This will take place at one of the Leisure Centres. Once this assessment has been completed you will start your 12 week programme.
What will happen if I successfully lose weight in those 12 weeks?
You will be given the opportunity to take part in a 12 week maintenance programme free of charge.
What will happen if I don't lose weight in those 12 weeks?
The Health and Wellbeing Officers will offer you support throughout these 12 weeks to try and ensure you meet your agreed goal. If you don't meet your goal you won't be able to continue with the programme and you will have to wait six months before you can start again.
How do I find out more?
Contact the Take That Step team or find them on Facebook:
Privacy notice
North Yorkshire Council is the service provider and 'Data Controller' as defined by Article 4(7) of the General Data Protection Regulation (GDPR). You can find the whole privacy notice on their website here: